SUNDAY SCHOOL
FOR ALL AGES
Due to Covid-19, all children's Sunday School classes have been combined into one online Sunday School class that meets every other week. To get the schedule and links to join, contact us at

pcbc2145events@gmail.com

, subject title: Sunday School. Adult Sunday School for the English-speaking ministry is cancelled until further notice. Join us for our small groups, here.
ALL AGES SUNDAY SCHOOL : SUNDAYS @ 9:45AM
ADULT CHINESE SUNDAY SCHOOL : SUNDAYS @ 11:30AM
CHILDREN'S FELLOWSHIP : SUNDAYS @ 11:30AM
NURSERY (AGES 0-2) OPEN SUNDAYS 9:45AM – 12:30AM
(PARENTS WATCH THEIR OWN)
ALL SUNDAY SCHOOL MEETS IN OUR EDUCATION BUILDING NEXT DOOR
We have a place for everyone! Sunday Mornings we have a class room for every child of any age to join. We offer a nursery for children 0-2yrs for parents to watch their own children — or if the parents are attending adult classes — feel free to bring your child. We have babies join our class from time to time!
It's our heart to help teach and train our children to love and trust God and to help them deepen their faith.
We recognize that faith isn't inherited but must be taught and offered to each generation.
It is our goal to pour into our children and help them see and
experience the love of God and Jesus.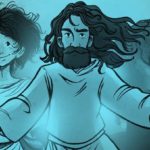 Our Adult Sunday School Class @9:45am on Sundays will be
exploring the Gospels as we study the life of Jesus and what he taught.
Our class will be covering all four Gospels chronologically as well as the words of Jesus from the book of Acts and Revelation.
This is your chance to learn more about ancient Christian heritage, familiarize yourself with the New Testament and
see how God has woven the story of his son, Jesus, and his plan to redeem humanity, throughout the Bible.