BELIEVE + BELONG + BECOME
We're big on small groups. We believe community is the healthiest way to grow in our faith. It can be hard to navigate this world as a person of faith, but that journey is made easier when you are not alone. Our small groups are a great place to meet other Christians, share your heart and grow in your faith. Each groups participates in a service project, an outreach project and a plans a fun event for everyone to participate in.
Our small groups run three times a year and usually go from 10-12 weeks. At times we offer special shorter small groups that function more like seminars. So check the page throughout the year and you can see what small groups are up and running.
Fall Small Groups are here! Check out the options below. Our groups will continue to meet online, so sign-up and join us this Fall and stay connected! Email us for more information pcbcsmallgroups@gmail.com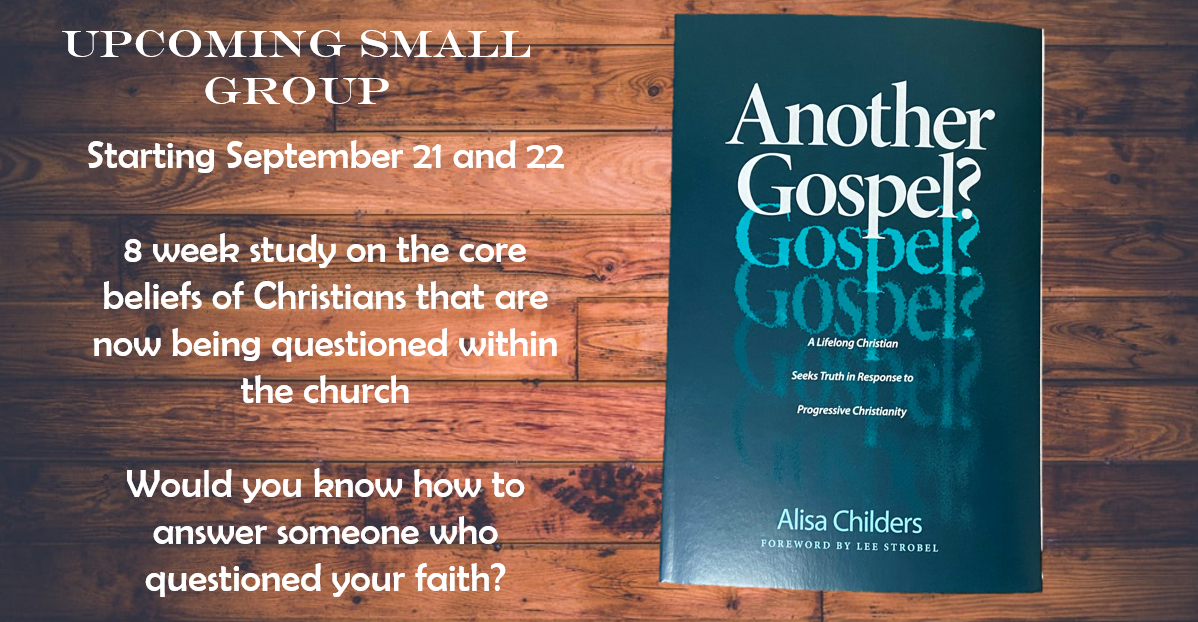 Alisa Childers never thought she would question her Christian faith. She was raised in a Christian home, where she had seen her mom and dad feed the hungry, clothe the homeless, and love the outcast. She had witnessed God at work and then had dedicated her own life to leading worship, as part of the popular Christian band ZOEgirl. All that was deeply challenged when she met a progressive pastor, who called himself a hopeful agnostic.
Another Gospel? describes the intellectual journey Alisa took over several years as she wrestled with a series of questions that struck at the core of the Christian faith. After everything she had ever believed about God, Jesus, and the Bible had been picked apart, she found herself at the brink of despair . . . until God rescued her, helping her to rebuild her faith, one solid brick at a time.
Be sure to purchase the book before the study and sign-up below:
In a world increasingly indifferent to Christian truth, followers of Christ need to be equipped to communicate with those who do not speak their language or accept their source of authority. In Tactics, 10th Anniversary Edition, Gregory Koukl demonstrates how to artfully regain control of conversations, keeping them moving forward in constructive ways through thoughtful diplomacy. You'll learn how to stop challengers in their tracks and how to turn the tables on questions or provocative statements. Most important, you'll learn how to get people thinking about Jesus. Tactics provides the game plan for communicating the compelling truth about Christianity with confidence and grace.
Drawing on extensive experience defending Christianity in the public square, Koukl shows readers how to:
Initiate conversations effortlessly
Present the truth clearly, cleverly, and persuasively
Graciously and effectively expose faulty thinking
Skillfully manage the details of dialogue
Maintain an engaging, disarming style even under attack
Be sure to purchase the book before the study and sign-up below:
For more information you can contact us at pcbcsmallgroups@gmail.com
CORONAVIRUS (COVID-19) UPDATE:

English-speaking small groups will move to an online platform – all small groups will be held on ZOOM. Contact us for more info.
For all other questions related to small groups email: pcbcsmallgroups@gmail.com